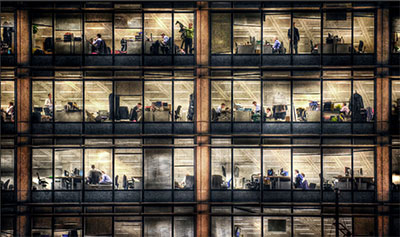 Having an IT support team close to your home or business greatly improves time and cost efficiency. As a locally-owned, Northern Virginia company, we are able to be help you in-person, and not just over the phone. Our team of experienced professionals will personally upgrade, design, install maintain and repair your server, application, phone and network systems. Whether you are a business with numerous employees and multiple applications, or just a user with a computer or network issue, we are here to help.
BITS Technology understands today's business environment and the challenges faced by small businesses to do more with less and be adaptive to the ever changing market place. To be successful, a small business must get the most out of each and every investment dollar. When it comes to making the decisions on which IT products, services and solutions to implement (and not to implement) the right choice can seem a little overwhelming. This is why successful small business decision-makers trust the IT professionals at BITS Technology. Located halfway between Warrenton and Gainesville Virginia, BITS' staff of certified network engineers, technicians and sales professionals listens to each unique situation and delivers the best possible IT solution. BITS Technology is known as a "hands-on company" during the planning, building and the continual support of any IT solution.
Our goal is to keep your businesses responsive, agile and in-business with solutions that provide a dependable working environment for your employees. The following are just a couple of issues to keep in mind to properly address when making decisions concerning IT infrastructure:
Protect your business and prevent lost productivity with the best selection of data backup, restoration and recovery solutions.
Identify solutions that provides a secure infrastructure from intrusions, viruses and computer hackers.
Augment your staff with skilled, certified technicians and engineers with the use BITS suite of Managed Services offerings.
Purchase hardware and software that provides the best return on investment for every dollar.
No matter the size of the company or business segment, BITS can help in creating an IT infrastructure that saves time, loss of productivity and loss of sleep. To better understand how BITS can deliver the best small business IT solutions call 540-349-2487 or 703-831-3777 and speak to one of our IT Specialists.