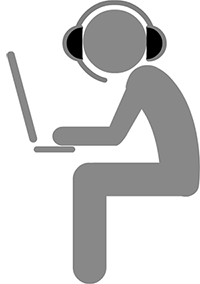 BITS offers our clients a fixed rate plan for the complete management and support of your organization's IT needs. BITS also brings to the table unique business advantages for our clients, such as: monthly reporting of your systems; a strategic road map to help you budget for the future; full documentation of your IT infrastructure including licensing, hardware and software procurement; and third party vendor management.
Remote Computer Support
With our Managed Help Desk Services we are always available when you need us. For the home user that just needs help connecting to the internet or the business owner needing someone to support his employees, we are there for you. Just call us and we will assist you with your technical issues. If you are looking to have the advantages of technical support available without the need for full time on-site tech support we have the right solution for you. We also provide supplemental IT services and temporary coverage when your In-house technical support team is away or too busy.
Whether it's computer support, implementation of cloud computing applications, server management, network installation and updates or telecommunications, we provide a full-time staff that understands the importance of efficiency, security and the crucial role that budgets play in company IT decisions. Contact us today and see how we can help you with your specific IT needs.
PC / Laptop Management

24/7 Helpdesk Support
Unlimited Phone Support
Unlimited Nationwide On-site Management
Unlimited Remote Control Support
Unlimited PC imaging and recovery
Microsoft Application Support
Online Asset Management
Online Ticket / Case Management
Online License Management
Desktop Optimization and Management

User VPN Client Management
SSL VPN Management
Anti-virus Management
Patch Management
On-site Data Backup and Recovery
Off-site Data Backup and Recovery
Remote Desktop Connection Management
PC and Printer setup
Desktop Optimization & Management
Spy-ware / Ad-ware Protection & Removal
Emergency After Hours Support

Server Management

24/7 Support
Unlimited Phone Support
Unlimited Nationwide On-site Management
Unlimited Remote Control Support
Unlimited Server imaging and recovery
Emergency After Hours Support
Microsoft Platform Support
Linux / Unix Platform Support
Microsoft Virtualization Platform Support
VMware Platform Support
Citrix Platform Support
Microsoft Application Support
Microsoft Domain Server Administration
Microsoft SharePoint Server Administration
Microsoft Exchange Server Management
Third Party / Hosted Email Management
Microsoft SQL Server Management
MySQL Server Management

Security Group Management
Server File Sharing Management
Log File Management
Server Application Support
Online Server Asset Management
Online Ticket / Case Management
Server Optimization and Management
Third party Software Liaison
Online Server License Management
Server / Network Security Management
Disk Drive Space Management
Centralized Anti-virus Management
On-site Data Backup and Recovery
Off-site Data Backup and Recovery
Network Printer / Scanner Management
Server Patch Management
Server Service Monitoring and Alerting

Network Management

24/7 Support
Unlimited Phone Support
Unlimited Nationwide On-site Management
Unlimited Remote Control Support
Online Ticket / Case Management
Emergency After Hours Support
Router / Modem Management
Firewall Management
Intrusion Detection System (IDS) Management
Network Switch Management
Wireless Access Point Management
Internet Domain Management

Redundant Router Management
Redundant Firewall Management
ISP Liaison Support
Telephone Company Liaison Support
Network Device Patch Management
User VPN Management
Site to Site VPN Management
SSL VPN Management
Remote Desktop VPN Management
SYSLOG Management
DNS Management